Radial timber new state of the art mill opens in Victoria with world-first technology that cuts logs 'like cake'
A new mill opening in eastern Victoria today is bucking the trend of closures in the timber industry by producing a niche products for architects.
Radial Timber, which claims to be the only commercial radial sawmill in the world, is opening in Yarram in south-eastern Victoria.
The $5 million mill will employ 20 people and initially produce 12,000 cubic metres of timber a year.
Radial Timber owner and managing director Chris McEvoy said the technology used at the mill was the first of its kind and developed locally in Gippsland.
"Most timber mills traditionally get a round log and cut it up square and then cut boards off from that," he said.
"We cut it into wedges and then we cut those wedges into boards and it basically works with the growth stresses in the logs giving you a much more stable product."
Radial timber popular with architects
While Australia's largest hardwood sawmill in Heyfield faces closure less than 100 kilometres away from the new mill, Mr McEvoy said demand for radial timber was growing.
He said the timber was favoured by architects for decking and external cladding.
"Radial timber is in huge demand in Melbourne and with modern-design buildings there's a really big call by young architects to use timber and use a lot of timber externally and that's what we specialise in," Mr McEvoy said.
"We've had the market for quite a while, it's been expanding and we made a conscious decision four, five years ago that we need to build a brand new mill to cope with the increased demand.
Mill to rely on plantation in future
Radial Timber has secured a 10-year deal with VicForests but plans to rely solely on plantation timber within 20 years.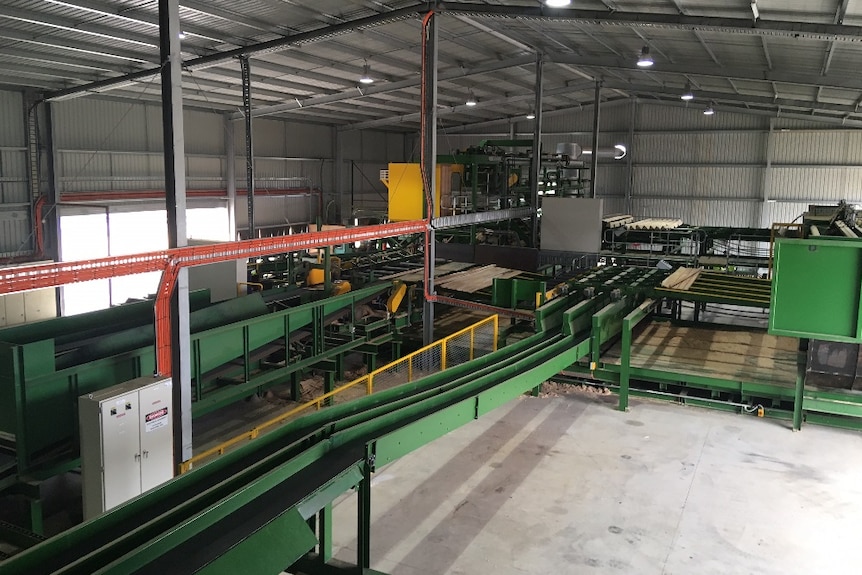 Mr McEvoy said this was how he saw the future of the timber industry.
"Even Heyfield came out and said to the government that really if they weren't going to get their resource what they needed was to have the ability to invest in plantations and they needed the ability to retool the sawmill," he said.
"We saw this potentially happening 12 years ago and that's why we started investing in plantations and then over the last two, three years concentrating on the new sawmill.
"We've seen this developing over a period of time and have taken the long-term view that this is the way for the timber industry in the future."
Plantation timber supplied from 2025
Heartwood Plantations will supply the mill from 2025 with four different types of eucalypt trees.
"We're probably working towards having something like 20,000 tonnes a year in due course that we could harvest and probably half of that will end up at the sawmill," Heartwood Plantations general manager Jon Lambert said.
"We've got 1,500 hectares in the ground at the moment and we have another 1,500 hectares that will be gradually re-planted."
Mr Lambert said the timber industry needed to concentrate on high-value products to remain competitive.
"I do think the future for the industry is to focus on high-end, value-added stuff because our costs to manage, to run and even just our labour costs means that it's quite expensive to do business.
"We've got to aim at high-value products otherwise it's very hard to compete."